Off the top of my head
Mar 25
Remember Amber?
Sure you do. I wrote about her here.
Now see this:
Mar 21
Potholes on Minnesote Avenue
As I do the two-step on Minnesota Avenue at 10th Street to avoid falling into the potholes, or I stand at the shore of a virtual pond at the street corner, I say to myself, "Wasn't this road supposed to be redone a while ago? Wasn't that part of the 2010 mayoral campaign?"
To quit talking to myself, making people slowly back away, I decided to look it up. I found this in our archives, indicating a new Minnesota Avenue was coming in 2012 and the overlay would only have to last two years.
Whatever happened to that, do you know?
STORY FROM SEPT. 1, 2010

Minnesota Ave. work just a temporary fix, mayor says
An overlay project under way along Minnesota Avenue between 18th Street and Russell Street is just a temporary fix until the roadway is completely rebuilt in the next few years.
The $1.2 million overlay project started last week and should be completed by Oct. 15. It was a last-minute addition to what's shaping up to be one of the city's busiest road construction seasons on record.
"Some of these projects are temporary fixes," said Mayor Mike Huether during a press conference this morning to provide an update on road projects.
"They're not meant to last for the end of time, including Minnesota Avenue."
The overlay project will extend the life of the roadway and improve the driving surface for drivers until it can be reconstructed, said Mark Cotter, director of Public Works. About 25,000 people drive down that stretch of Minnesota Avenue daily.
A reconstruction of the Minnesota just south of Russell to 18th Street is tentatively scheduled to begin the summer of 2012.
That project, which will likely take two years, would reconstruct the road with concrete and include a number of other upgrades including new sidewalks, utilities upgrades and a new water main, said Chad Huwe, city engineer.
It costs roughly $4 million to $5 million per mile to reconstruct a road with concrete. In addition to the other improvements planned along the 1.5-mile stretch of road, Huwe estimates the reconstruction project could cost as much as much as $12 million.
Emphasis mine. If I can take a photo without getting killed while crossing the street this noon, I'll do that and post it.
Mar 17
A record-setter
Amber Lutmer, who plays softball for the University of Nebraska at Omaha, set a school record over the weekend. She has hit the most home runs in UNO's history, belting No. 45 out of the park.
Those of you who know me understand I'm not a sports-minded person. But I'm rejoicing in sorts of a family triumph. Amber is the sister-in-law of my niece, Katie.
There are regional connections, too. Amber's parents, Mike and Deb (Bullerman) Lutmer, were born and raised in Adrian, Minn. I have to say, if Amber had attended UNL, she'd be getting much more attention.
Here's her photo, shot by J.R. Epley.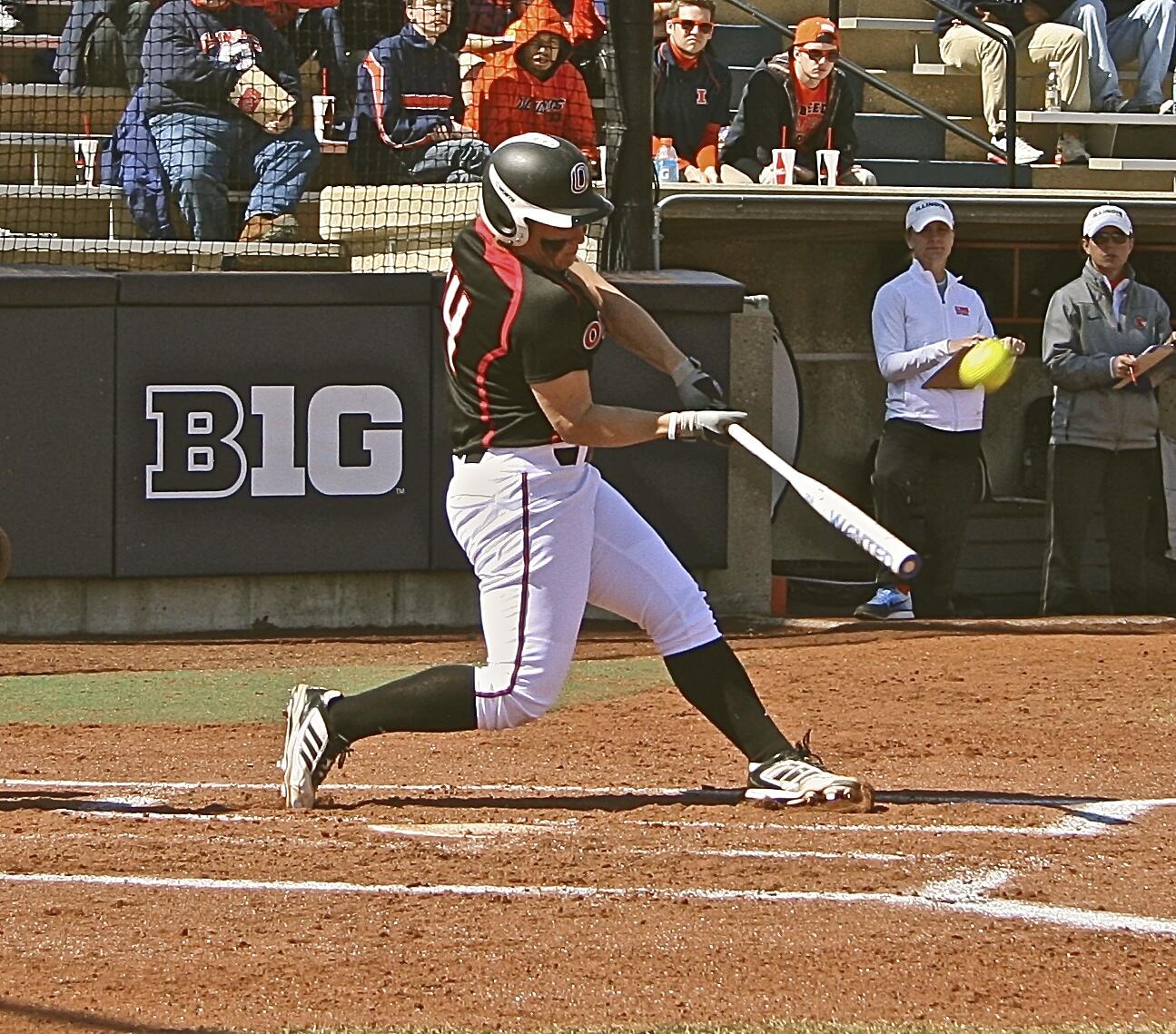 And here are Amber's stats: batting .384 and slugging .849 - with 18 walks,
Of further notes, her brother, Brett, westled for Augustana College. Or as Amber's UNO biography says, "Augusta."
Particle Fever
The documentary "Particle Fever" sold out Sunday night at Cinema Falls, but fear not, physicist-type people, it will be back March 23.
Augustana College is hosting a screening since one of its professors, Nathan Grau, took part in the research. (Sorry to be so vague; I'm interviewing him Tuesday and will have the story done for Wednesday.)
I saw it, and you don't really have to be a physicist to enjoy it. It would probably have helped, however, as a way for me to understand it. I did like seeing people in Einstein masks rapping. And it is horrendously sad when a man talks about how the work he pursued for 40 years might turn out to be worthless.
I was sad/mad/frustrated because I couldn't watch the Veronica Mars movie on Video on Demand this weekend. But this probably improved my mental well-being much more.
Here's a link for tickets.
Mar 07
In the mood to cry?
Then watch this video. It's for a car commercial. But it ain't about the car. However, I'm buying a Chevy next time.
Mar 05
Dating
If I'm reading this press release right, single women who are too picky and don't go out on just any old date are hurting the economy? Read it and tell me what you think.
Love may not cost a thing, but rejecting it could cost you millions.
WhatsYourPrice.com, the world's first dating-auction site, has discovered the dollar amount of a declined first date: $142. The site analyzed all 529,679 declined first date offers in 2013, and found that finicky women failed to collect $75,439,282 of prospective offers in just one year.
That's right. Over $75 million could have been circulating amongst smitten females. Instead, this staggering amount was left untouched by over half a million women.
Using the value and volume of these declined first dates, WhatsYourPrice determined "The Cost of Saying No" to encourage picky singles to think twice about dating outside their "type."
This brings up an interesting relationship/lifestyle topic that I'd also like to share: are women who online date too picky?
 Forwarded is the official press release that elaborates upon "The Cost of Saying No," as well as ranks the major cities where picky women are losing the most money.
TV and me
I am about thisclose to bidding goodbye to my cable TV company. If I could figure out my other options, I'd be long gone by now.
For months, I have had trouble with the audio. It goes in and out, interrupting crucial points in the news and programming. I've complained several times. The advice I always get — check the connection and shut it off and start over — make no difference.
In recent weeks, I have used closed captioning to fill in the gaps I miss when the audio stumbles. That isn't always the best either.
Such as this caption. Someone referred to Don Quixote. Closed captioning changed it to Donkey Hotty.
Or you try to figure out what this one says:

How do people with hearing-impairments stand trying to follow along on a show?
Mar 03
Oscar wrap-up
Actually, I'm lying when I call this a wrap-up because I haven't seen the end yet. I was so bored and didn't expect any surprises in the final awards that I set the DVR and went upstairs to read.
I haven't watched what I recorded yesterday, but based on the tweets I caught up with today it doesn't sound like I missed much. I can fast-forward through everything but Matthew McConaughey's speech. And even that sounds like it went on a bit too long.
But may I begin by congratulating the winners on their speeches? For once it wasn't just a monotonous droning of people's names. Jared Leto set the tone with his tribute to his mother and brother, although he switched to thank yous at the end, and either everyone sort of followed his lead or already had the same inspiration. And almost no one got played off. And there were no horrible montages except for that bit on heroes, which oddly enough featured 1,000 comic book characters and George Bailey.
Ellen, however, was a major disappointment. It's as if she recycled everything she'd done before. Didn't someone bring in popcorn or something at an awards show several years ago? And put away your cell phone. That is so dated. And you didn't "break" Twitter.
I don't care about tuxes, I really don't. But McConaughey and Leto in near matching apparel struck me as odd. My favorite dress of the night was the one worn by Bette Midler, even though it will get no attention from everyone else. What was with all the arm movements though, Bette. Flapping one wing? I'm grateful she was holding the mike so she didn't wave both arms around like a bird. Hooray for muting the applause, but I prefer my heart-tugging memorial song during the In Memoriam segment.
And go back to five nominations. Summarizing the best pictures in trios made them seem as if there was nothing special about any of them.
I think I'm done now. But I may be back.
P.S. Here's Bette's dress. It looked better in person, as it were.
Feb 27
With raisin juice and rubber
Know that foaming chemical tuff that Subway just said it would eliminate from its bread, the ingredient also found in yoga mats and shoe rubber?
Yah, you can find it in other products, too.
The complete list is here.
Here's the listing that caught my eye however, the one for Country Hearth bread, which can be found locally. Azodicarbonamide (also known as ADA) is included in:
Dakota Style 12 Grain Bread
Hearty Homestyle 100% Whole Wheat Bread
Hearty Homestyle Honey Grain 'n Oat Bread
Split Top Wheat Bread
Split Top White Bread
It's the Dakota Style 12 grain bread that I hear most often in radio commercials. The announcer used to be able to put a special trill in his voice when he talked about the "raisin juice" that was used in making the bread, but that's long gone. Now he jut says the word with no fancy stuff at all.
Feb 26
Pay phones
Don't you miss, especially on cold, windy days, standing outside at a pay phone,flipping through a tattered phone book (if you're lucky enough to even have one) and fumbling for change?