Off the top of my head
Nov 21
Movie previews 11/21
Hey, I've got choices this weekend. And I have my movie date all lined up. So it's just a matter of choosing between one of the first two listed.
The Dallas Buyers Club depicts Matthew McConaughey as a homophobic man who learns he has AIDS, at a time when it was viewed as "gay cancer." He heads to Mexico where he can pick up quantities of a possible life-saving drug. I've grown a little tired of McConaughey in recent films (can you say Magic Mike?), but if he's willing to take a risk in the role he chose, I'm willing to support him this time.
Delivery Man is my other option for the weekend. I also have grown tired of Vince Vaughan and what seems to be a largely one-note career lately, but the critics are promising me he delivers a whole octave in this story of a man who learns donated sperm has made him a father hundreds of times over.
The Hunger Games: Catching Fire is the third option. It's probably going to be great, but it's not a series I've read or starting viewing. You go, and that way I'll be sure to have a seat at either TDBC or Deliver Man.
Classic Christmas movies
Cinemark has announced its Classic Christmas series for this holiday season. I haven't seen National Lampoon's Christmas Vacation on anything but a tiny television for years. It may be time to rectify that.
Here's the press release. I'm to lazy to edit it, so the misplaced commas remain.
The holidays are approaching and Cinemark's Classic Series event continues with Holiday themed classic films. The four films include; "Elf", "White Christmas", "National Lampoon's Christmas Vacation", and  "It's a Wonderful Life."
As a special treat for the holidays, all Classic locations will present encore presentations of "It's A Wonderful Life" on Christmas Eve, Tuesday, December 24 at 2pm and 7pm.
The list of films and dates of their presentations are:
Sunday, Nov. 24 and Wednesday, Nov. 27 — Elf (2003)
December 1 and 4 — White Christmas (1954)
December 8 and 11 — National Lampoon's Christmas Vacation (1989)
December 15,  18 and 24 —  It's A Wonderful Life (1946)
 What is your favorite holiday movie you watch with your family every year?
Individual tickets for Cinemark's Classics Series will be available at www.cinemark.com or at the participating theatre box office. A bundled ticket option for the Holiday Classic films will also be available for $20 for all four movies. Stay tuned to for more details.
Nov 20
Martha Stewart on Twitter
The inestimable Martha Stewart created a furor on Twitter when she posted two pictures of recipes she suggested.
One is for a wedge of iceberg lettuce with a homemade Russian dressing, the other is for a french onion soup. I have to say, in my opinion, they both look terrible.
See what I mean: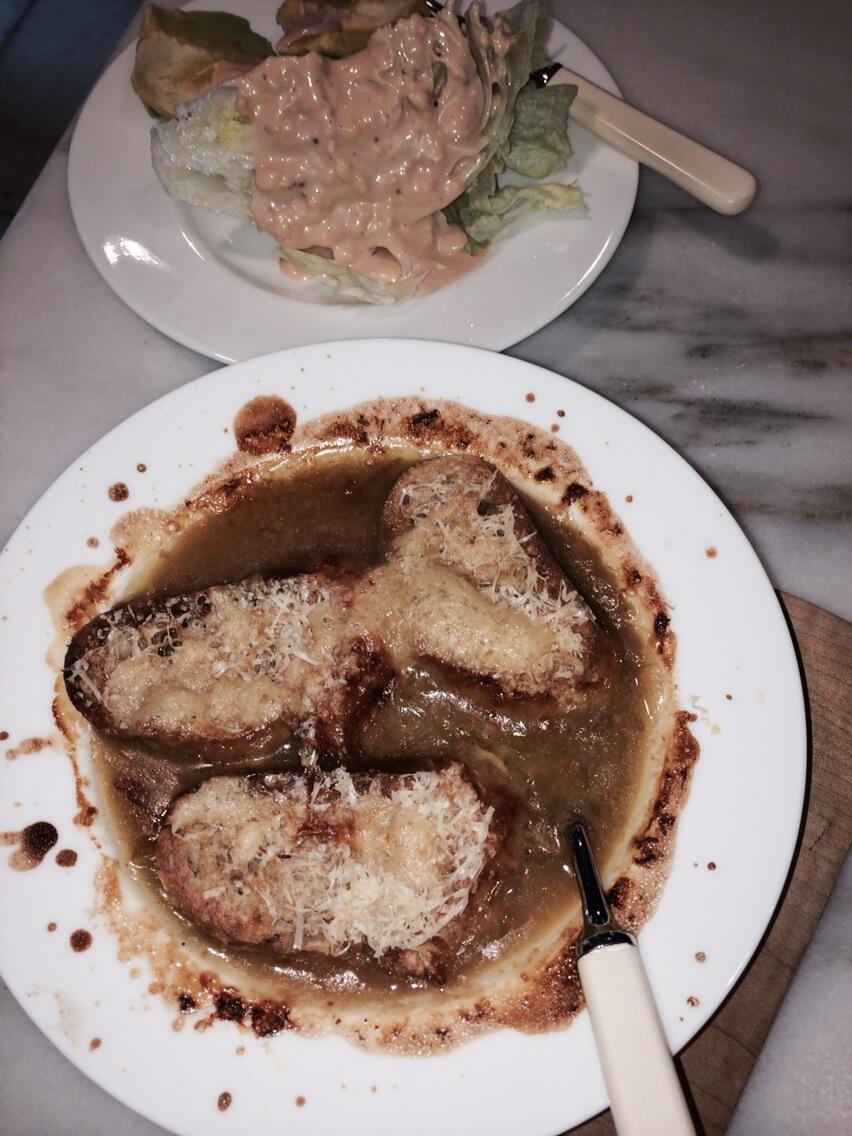 And after years of hearing how iceberg lettuce has no nutritional value, why is it popular now?
In any case, the whole point of sharing this is because of the comments Martha received in response. I actually laughed out loud at one of them, but I'm not going to say which.
Martha is aware of the fuss, and she shared this today:
Rock 'n' Roll heaven
I found this "aging" of "gone-too-soon" musicians both hilarious and scary.
You need to watch it just for the age progression of Elvis Presley, if for no other reason (those other reasons include Bob Marley, Jimi Hendrix, Karen Carpenter, Janis Joplin and Cass Eiliott).
Joplin looks rather matronly in her age progression, and Hendrix looks like he's gunning for movie roles usually given to Morgan Freeman.
The funniest one is, hands down, Elvis. Not just for his lines and wrinkles but for the shirt they put him in. The worst of his jumpsuits looks better than that shirt.
Nov 19
A weird spokesman
When it comes to spokesmen who represent a brand, I'm partial to Tony the Tiger. Or the Rice Krispies' Snap, Crackle and Pop. Even Kaptain Krunch.
So why would the company that makes Gin-Gins, a very spicy, chewy ginger candy, think THIS is what you want to represent your candy:
Nov 14
What literary character are you?
Here's a quiz to tell you which literary character you are.
I, however, need to retake it because I got Tigger. And there's just no way.
Sioux City, S.D.
CNN, your most trusted source for news, listed promising places to find jobs.
In South Dakota, that would be the city of Sioux City, of course. At least they did get a picture of the right city to illustrate it.
Movie previews 11/14
12 Years a Slave arrives Friday and I'm glad and I'm going to see it, but to be honest I'm dreading it. I'm not good at watching violence, people abusing other people, and that is what awaits in this movie about a free man who ended up spending 12 years as a slave. It has an amazing cast, particularly Chiwetel Ejiofor, who ranks right up there with the best of all actors.
The Best Man Holiday also has a great cast, with Taye Diggs and Sanaa Lathan as my favorites. It's the story of old friends who reunite after a long absence. Think Big Chill with different music.
And here's what's on tap for Sunday with Cinema Falls.
Nov 13
Cookie dough
I am a big fan of cookie dough.Until it actually kills me because of a bad raw egg, I will keep eating it.
However, if I ever do wimp out, I can make this egg-free cookie dough. It's not for baking, just for eating from the bowl.
It says it's perfect for pregnant women who crave cookie dough but shouldn't eat it, buy why should pregnant women have all the fun?
Here's the recipe:
Eggless Cookie Dough
3/4 cup brown sugar
1/4 cup butter, softened
1/4 tsp. vanilla
1/4 cup milk
1 cup flour
Pinch salt
1/2 cup chocolate chips
CineFest
It's the second annual CineFest this Sunday. Here's what you'll have a chance to see:
Cinema Falls is going global for this year's CineFest 2013 - A Film Festival in an Evening. On Sunday, Nov.17, the doors will open at 5:30 .pm. at Icon Event Hall + Lounge to welcome film fans for an eclectic and engaging sampler of a variety of film genres. CineFest 2013's film slate will include the following:
 • A rare opportunity to see a collection of short animated films by emerging Russian filmmakers 
• A doc short from Japan that is one of 8 films currently shortlisted for an Oscar® nomination. This moving 13-minute film shares the story of those who helped restore the personal photos of victims after the 2011 tsunami.
• A single installment from a mixed media detective series now filming in various US locations. Cinema Falls will host LA filmmaker Alec Boehm in person - who is currently seeking the next location for their installment. The detective series is comprised of a graphic novel, 3 film shorts, and will culminate in a feature film shot in Chicago. 
•  A recent addition will include a 10-minute live action short titled HOME starring Sioux Falls Lincoln High School graduate Jenny Dempster and daughter of Tom and Patti Dempster of Sioux Falls. Jenny icurrently lives and works in Los Angeles. The director of the film is actor/director, Charlie Hofheimer. 
 This program provides the many genres of a typical film festival - but in a single evening, without travel, and for the $11.50 ticket from www.CinemaFalls.com
 "In a way this event is similar to the Oscar® nominated shorts program we present - in that it's a mix of genres similar to what you'd see at a film festival," according to founder, Julie Anderson Friesen. "We're really thrilled to host LA filmmaker Alec Boehm, and maybe he'll choose South Dakota as the location for their next film short. We'll see how convincing our Cine-zens can be."
 In addition to the evening CineFest program, Cinema Falls will also host a separate Matinee event on November 17th with doors opening at 2PM and film at 2:30pm. Again, with help from distributor RADIUS TWC, Cinema Falls will present one of the top 10 highest grossing documentaries of 2013 INEQUALITY FOR ALL. Other films in this Top 10 category for 2013 include prior Cinema Falls doc selections BLACKFISH and 20 FEET FROM STARDOM. The documentary won a special achievement jury award at the 2013 Sundance Film Festival, and features a presentation from former US Labor Secretary Robert Reich on income inequality. The film has over 33,000 followers on Facebook. Rating is PG and tickets are $11.50. 
 Tickets for both events can be found at www.CinemaFalls.com/Tickets
For information, contact:  Julie Anderson Friesen at 333-9888